Coir Erosion Control Logs
Natural Erosion Control and Shoreline Stabilization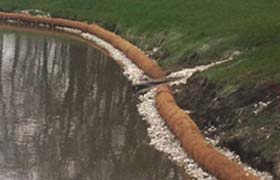 Question: Hello, I am in need of coir logs that I can use for shorelines. I would need to know how long these logs are and how high they will be? Can you help?
Answer: For erosion control along banks and shoreline stabilization, GEI Works' Coir Erosion Control Logs are a great choice. Made from 100% natural coconut coir, they are designed to help with shoreline erosion control and slope reinforcement.
GEI Works offers coir erosion control logs in two standard lengths, and various diameters to suit the specific requirements of the site or project.
Specifications
Length: 10 feet
Diameter: 12, 16, or 20 inches
Questions about coir fiber logs? GEI Works can help. Give our sales team a call at +1-772-646-0597 or contact us.
Features of Coir Logs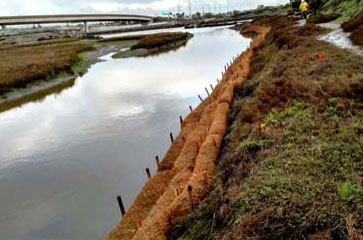 The base material used on GEI Works' coir erosion control logs is machine-filled coconut coir mattress fiber. This densely-packed natural fiber material helps to control erosion without negatively affecting the surrounding environment. GEI Works' coir erosion control logs also feature:
UV Stabilization
Cylindrical, Firm Exterior
Biodegradable Fibers for an Environmentally-Friendly Solution
Applications for Coir Fiber Logs
Some standard places these coir logs have been used include:
Shoreline Stabilization
Stabilization Along Riverbanks
Protection of Shores
Helps with Vegetative Regrowth
Questions about natural erosion control? We can help! Call our sales team at 1-772-646-0597 or fill out our quote request form to discuss your requirements.