Coir Erosion Control Logs
Natural Erosion Control and Shoreline Stabilization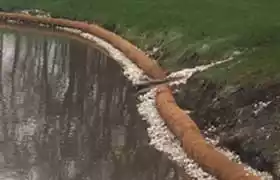 Question: Hello, I am in need of coir logs that I can use for shorelines. I would need to know how long these logs are and how high they will be? Can you help?
Answer: For erosion control along banks and shoreline stabilization, our Coir Erosion Control Logs are a great choice. Made from 100% natural coconut coir, they are designed to help with shoreline erosion control and slope reinforcement.
We offer coir erosion control logs in two standard lengths, and various diameters to suit the specific requirements of the site or project.
Note: Coir, like many products, is sourced from overseas. During these challenging times, due to trouble with supply and getting the products through the port systems, many products are less available. When they are available, they are more expensive. Coir is one of the products affected this way, across the entire industry. However, there are alternatives. As a practical and affordable alternative to coir logs or wattle, you might consider sediment filter logs. They are biodegradable, environmentally friendly, and perform in all the same ways that coir log and wattle do. Please see Sediment Filter Logs (pdf). Call us for pricing or with questions.
Our friendly staff is here to help you get the exact product you need!.


Questions about coir fiber logs? Erosion Control Products can help. Give our sales team a call at 1-863-261-8388 or contact us.
Interested in our other biodegradable erosion control products? See our helpful guide on all the Erosion Control Products we offer!
Standard Density Coir Logs
These are the industry standard for use in average conditions and at a price point that's budget friendly. 100% Biodegradable, the Standard Density Coir Logs are made of 100% coir encased in a 2"x2" coir netting. Coir Logs promote a natural solution to erosion control and slope stabilization, while creating an environment that supports vegetative growth for long term erosion control as the coir erosion control log eventually biodegrades.
Diameter
Length
Density
9"
9"
10'
16'
7.0 lbs/ft³
7.0 lbs/ft³
12"
12"
12"
10'
10'
20'
7.0 lbs/ft³
7.5 lbs/ft³
7.5 lbs/ft³
16"
16"
10'
20'
7.5 lbs/ft³
7.5 lbs/ft³
20"
20"
20"
10'
10'
20'
7.0 lbs/ft³
7.5 lbs/ft³
7.5 lbs/ft³
High Density Coir Logs
High density coir erosion control logs are recommended for use on rigorous terrain, areas exposed to high flow or harsh environmental conditions. They are also a reliable erosion control solution for streambanks and lakeshores, as well as for slope stabilization. Manufactured with 100% coir fibers encased in a rhombic coir netting, these high-density coir logs are known for solid performance in the most demanding situations and for the longest duration in the field.
Diameter
Length
Density
12"
12"
10'
20'
9.0 lbs/ft³
9.0 lbs/ft³
16"
16"
10'
20'
9.0 lbs/ft³
9.0 lbs/ft³
20"
20"
10'
20'
9.0 lbs/ft³
9.0 lbs/ft³
Pre-Drilled Coir Logs
Amazingly convenient, the installation of these coir logs is a snap. They use fewer stakes; simply secure them with stakes through the pre-drilled slots in the logs. The slots of the coir erosion control logs can also be used for planting seedlings. The slots are approximately 2 feet apart. Pre-Drilled Coir Erosion Control Logs are available in standard or high-density options and a variety of sizes.
Standard Density
Diameter
Length
Density
12"
12"
10'
20'
7.0 lbs/ft³
7.0 lbs/ft³
16"
16"
10'
20'
7.0 lbs/ft³
7.0 lbs/ft³
20"
20"
10'
10'
7.0 lbs/ft³
7.0 lbs/ft³
High Density
Diameter
Length
Density
12"
12"
10'
20'
9.0 lbs/ft³
9.0 lbs/ft³
16"
16"
10'
20'
9.0 lbs/ft³
9.0 lbs/ft³
20"
20"
10'
20'
9.0 lbs/ft³
9.0 lbs/ft³
Coir Logs Product Information and PDFs
Coir Logs Features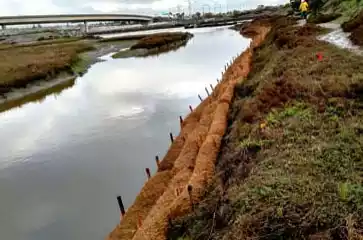 The base material used on coir erosion control logs is machine-filled coconut coir mattress fiber. This densely-packed natural fiber material helps to control erosion without negatively affecting the surrounding environment. For more information on other biodegradable products we offer, see our biodegradable erosion control products page. Erosion Control Products' coir erosion control logs also feature:
UV Stabilization
Cylindrical, Firm Exterior
Biodegradable Fibers for an Environmentally-Friendly Solution
Coir Fiber Logs Applications
Some standard places these coir logs have been used include:
Shoreline Stabilization
Stabilization Along Riverbanks
Protection of Shores
Helps with Vegetative Regrowth
Specifications
Length: 10 feet
Diameter: 12, 16, or 20 inches

Customers Who Viewed This Product Also Viewed


Coir Wattles
Coir Mats
Jute Matting
Questions about natural erosion control? We can help! Call our sales team at 1-863-261-8388 or fill out our quote request form to discuss your requirements.