Bio Log Erosion Control
Slope Stabilization, Filtration and Erosion Control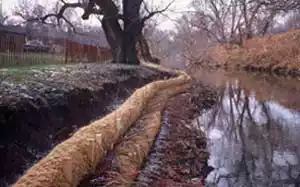 Bio log erosion control is an effective method to stabilize shorelines, reinforce slopes, control erosion, or act as a log check dam to control silt.
Designed as an environmentally-friendly product, these Biodegradable Coir Logs have an exterior manufactured with a bristle coir twine net and an interior packed with enriching coconut fiber. Designed to enhance the environment they're placed in, coir logs are photodegradable, or easily decomposed by sunlight. As they biodegrade, the nutrient-rich fibers strengthen the existing bank and encourage the area to establish deep root growth.
Depending on your application, erosion control logs can be made with or without knots. This helps to provide you with the product that most efficiently and effectively fits any project or site. For more information, see the specs listed below.
Note: Coir, like many products, is sourced from overseas. During these challenging times, due to trouble with supply and getting the products through the port systems, many products are less available. When they are available, they are more expensive. Coir is one of the products affected this way, across the entire industry. However, there are alternatives. As a practical and affordable alternative to coir logs or wattle, you might consider sediment filter logs. They are biodegradable, environmentally friendly, and perform in all the same ways that coir log and wattle do. Please see Sediment Filter Logs (pdf). Call us for pricing or with questions.
Questions about slope stability methods? Erosion Control Products can help! Call our team at 1-863-261-8388 or contact us to discuss erosion control fiber rolls.
Call now! While Supplies Last!
Our friendly staff is here to help you get the exact product you need!.

or Contact us for additional information.
Technical Specifications for Erosion Control Logs
Standard Density Biolog Erosion Control
These are the industry standard for use in average conditions and at a price point that's budget friendly. 100% Biodegradable, the Standard Density Coir Logs are made of 100% coir encased in a 2"x2" coir netting. Coir Logs promote a natural solution to erosion control and slope stabilization, while creating an environment that supports vegetative growth for long term erosion control as the coir eventually biodegrades.
High Density Biolog Erosion Control
High density coir logs are recommended for use on rigorous terrain, areas exposed to high flow or harsh environmental conditions. They are also a reliable erosion control solution for streambanks and lakeshores, as well as for slope stabilization. Manufactured with 100% coir fibers encased in a rhombic coir netting, these high-density coir logs are known for solid performance in the most demanding situations and for the longest duration in the field.
Pre-Drilled Biolog Erosion Control
Amazingly convenient, the installation of these coir logs is a snap. They use fewer stakes; simply secure them with stakes through the pre-drilled slots in the logs. The slots can also be used for planting seedlings. The slots are approximately 2 feet apart. Pre-Drilled Coir Logs are available in standard or high-density options and a variety of sizes.
Diameter
12" (30 cm)
16" (40 cm)
20" (50 cm)
Weight
5.5 lbs./ft.
(8.2 kg/m)
9.5 lbs./ft.
(14.1 kg/m)
15 lbs./ft.
(22.3 kg/m)
Density
7 lbs./ft³ (112 kg/m³) or
9 lbs./ft³ (13.4 kg/m³)
7 lbs./ft³ (112 kg/m³) or
9 lbs./ft³ (13.4 kg/m³)
7 lbs./ft³ (112 kg/m³) or
9 lbs./ft³ (13.4 kg/m³)
Lengths
10 ft.
(3.05 m)
10 ft.
(3.05 m)
10 ft.
(3.05 m)
Outer Net
80 lbs. (356 N)
3 Ply Coir
80 lbs. (356 N)
3 Ply Coir
80 lbs. (356 N)
3 Ply Coir
Openings
2" x 2"
(5 cm x 5 cm)
2" x 2"
(5 cm x 5 cm)
2" x 2"
(5 cm x 5 cm)
Inner Core
Coir Mattress Fiber
Coir Mattress Fiber
Coir Mattress Fiber

Erosion Control Logs Features
Long life span: 2-5 years
High tensile strength, which protects vulnerable steep surfaces from the constant pressure of heavy water flows
Allows for full plant and soil establishment and slope stabilization
Fully customizable to meet any specific erosion control project
Provides an excellent microclimate for soil
Safe for surrounding wildlife
Coir Logs Slope Stability Methods
Stabilization of Riverbanks and Streams
Controlling Sediment on Shores and Slopes
Log Check Dams
See also this affordable USA made alternative to coir: Excelsior Erosion Control Excelsior Logs.
Questions about erosion control fiber rolls? We can help! Call our team at 1-863-261-8388 or fill out our quote request form to discuss slope stability methods.