Coir Wattles
Coir Products Sediment Filtration and Erosion Control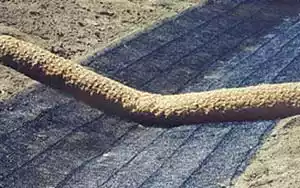 Erosion Control Products' coir wattles are 100% biodegradable products commonly used for stormwater filtration and silt and erosion control around construction sites. Packed with coir fibers throughout the erosion control coir wattle, these units allow water to pass through while sediment, silt and other harmful materials are removed.
Coir wattles visibly resemble coir logs, but they are less densely packed, allowing them to filter out sediment as water flows through them. The design makes it an ideal solution for projects looking to reduce water flow, protect construction sites from storm runoff, and restore environmentally-sensitive areas prone to erosion.
Note: Coir, like many products, is sourced from overseas. During these challenging times, due to trouble with supply and getting the products through the port systems, many products are less available. When they are available, they are more expensive. Coir is one of the products affected this way, across the entire industry. However, there are alternatives. As a practical and affordable alternative to coir logs or wattle, you might consider sediment filter logs. They are biodegradable, environmentally friendly, and perform in all the same ways that coir log and wattle do. Please see Sediment Filter Logs (pdf). Call us for pricing or with questions.
Our friendly staff is here to help you get the exact product you need!.


Interested in our other biodegradable erosion control products? See our helpful guide on all the Erosion Control Products we offer!
Coir Wattle Features




Interior Filling: Double Cleaned Unsorted Coir Fiber
Exterior Netting: Coir Twine with Knotted Junctions

Coir Wattle Benefits




Easy to Place and Adjust
High Filtration of Sediment and Silt
Biodegradable
Maintains Continuous Water Flow
Standard Erosion Control Coir Wattle Applications
Sediment Control Around Circular Drains
Barriers around Construction Sites and Entrances
BMP Around Drains and Curb Inlets
Check Dam
Coir Wattle Technical Specifications
| | | |
| --- | --- | --- |
| Diameter | 6 in (15 cm) | 9 in (23 cm) |
| Length | 10 or 20 ft (3.05 or 6.10 m) | 10 or 20 ft (3.05 or 6.10 m) |
| Weight | 1.5 lbs/ft (2.23 kg/m) | 3.0 lbs/ft (4.46 kg/m) |
| Density | 7 lbs/ft³ | 7 lbs/ft³ |
| Inner Core | Double Cleaned Unsorted Coir Fiber | Double Cleaned Unsorted Coir Fiber |
| Netting | Coir Twine with Knotted Junctions | Coir Twine with Knotted Junctions |
View more Sediment Control Products from Erosion Control Products.

Customers Who Viewed This Product Also Viewed



Dewatering Bags
Erosion Control:
Coir Logs
Construction BMP:
Coir Sediment Control
Questions about coir products? Erosion Control Products can help! Call our team at 1-863-261-8388 or fill out our quote request form to discuss your requirements.