Erosion Control Wattles for Construction
Construction Site Wattles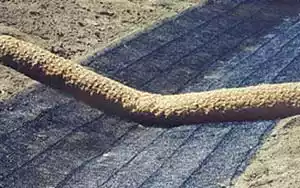 Question: I am in need of erosion control wattles for a construction project in my area. I am wondering about the available lengths and diameters for these wattles. I require a total length of about 1,500 to 2,000 linear feet. What are the standard lengths that a wattle comes in? What is it made out of? I would prefer natural materials.
Answer: The Erosion Control Wattle is a highly flexible product that is often used for landscaping, construction, or sediment control requirements. Coir wattles can be installed in areas with a low flow to help retain sediment or filter out materials in water. They have been used on construction sites to help direct the flow of water runoff or protect drains from sediment contamination.
Our friendly staff is here to help you get the exact product you need!.


Coir Wattle Features
The standard erosion control wattles that we offer are products made from an all-natural coir material. This coir fiber is created from coconut husks and cured to help increase the strength offered by your product. Features include:
Inside Material: Double Cleaned Unsorted Coconut Fiber
Outer Material: High Strength Coir with Knotted Junctions
Mesh Openings: 2" x 2" Rhombic Shapes
Standard Diameters: 6" or 9"
Standard Lengths: 10' or 20'
In terms of the information you have requested, the coir wattle is available in the standard diameters of either six or nine inches (6" or 9"). Choosing your coir diameter can depend on the area you are trying to control, as well as specific inlets or drains you may need to protect.
To achieve the extended length you have requested, wattles can be joined together using a coir twine material. This helps to create specified lengths along construction areas, drains, or inlets.
Coir Wattle Technical Specifications
| | | |
| --- | --- | --- |
| Diameter | 6 in (15 cm) | 9 in (23 cm) |
| Length | 10 or 20 ft (3.05 or 6.10 m) | 10 or 20 ft (3.05 or 6.10 m) |
| Weight | 1.5 lbs/ft (2.23 kg/m) | 3.0 lbs/ft (4.46 kg/m) |
| Density | 7 lbs/ft³ | 7 lbs/ft³ |
| Inner Core | Double Cleaned Unsorted Coir Fiber | Double Cleaned Unsorted Coir Fiber |
| Netting | Coir Twine with Knotted Junctions | Coir Twine with Knotted Junctions |
Coir Wattle Benefits
Erosion control wattles for construction sites can offer many benefits during their use including the following:
Reliable Perimeter around Construction Area
Adjustable Lengths
Can be Driven Over by Machinery or Vehicles
Retains Sediment while Allowing Water to Flow Through
Flexible to Fit Around Drains or other Troublesome Areas
Environmentally Safe and Biodegradable
Quick Installation
Joined to Form Almost any Desired Length
The erosion control wattle is most typically installed using wooden wedges and metal staples. These wedges are placed into the ground directly around the coir wattle to hold it in place. Metal staples can be used on the bottom of the wattle to help form it to the ground.

Customers Who Viewed This Product Also Viewed


Dewatering Bags
Erosion Control:
Coir Wattles
Construction BMPs
Questions? We can help! Call our team at 1-863-261-8388 or fill out our quote request form to discuss your requirements.