Wood Fiber Blanket
Single or Double Net Excelsior Blanket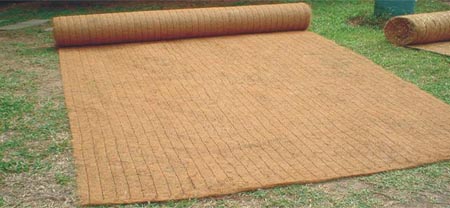 Erosion Control Products' natural wood fiber blanket, also called a wood fiber mat or excelsior blanket, is an erosion control solution designed for environmental support along banks,channels, roads, and other low-flow areas. Made from aspen 100% natural wood shavings, our erosion control blankets are available in single and double-net designs. They provide a biodegradable erosion control option that can successfully stabilize shorelines until vegetation is able to take root. Standard models are sold by the roll and are designed to accommodate areas with low flows and slopes up to 3:1.
Similar to other erosion control options, the excelsior blanket is designed to stabilize a given location until roots can be established in the area. The typical lifespan for these erosion control blankets is anywhere from 12 to 18 months.
Our friendly staff is here to help you get the exact product you need!.


Excelsior Blanket Features




Material: Biodegradable Wood Shavings
Netting Material: Photodegradable Polypropylene (green)
Thread Material: 600 Degradable Split Yarn
Medium Term Lifespan of 12 to 18 Months
Handles Slopes up to 3:1 in Steepness

Excelsior Blanket Benefits




Biodegradable
Safe for Environmental Use
Reliable Stabilization Fabric
Helps Increase Stabilization for Vegetative Growth
Netting Photodegrades During Use
Enriches Surrounding Area after Biodegrading
Standard Wood Fiber Blanket Applications
Stabilization on Slopes with a 3:1 Ratio or Less
Support Along Roadsides
Erosion Control on Areas with a Low Flow
Support in Low Flow Channels
Banks and Streams
Wood Fiber Blanket Technical Specifications
Installation
Blanket Installation (PDF)
Contents
100% Wood Fiber Shavings
Netting
Single or Double Polypropylene (photodegradable)
Thread
600 Denier Degradable Split Yarn
Standard Width
Available in 4 ft. and 8 ft. Widths
Standard Length
Available in 90 ft. and 180 ft. Rolls
Weight (Approx)
73 lbs./yd²
Lifespan
Medium Term, 12-18 Months
Best Use
Slopes with up to a 3:1 Grade
Low Flow Roadside Use
Shear Stress Rate
For Double Net: 2.4 lb./ft²
*Custom widths and lengths also available.
Additional Product Information:
Looking to meet the needs of multiple sites? Our erosion control variety is designed to accommodate a wide range of locations including slopes (4:1 low profile up to steep 1:1 slopes), low and high flow channels, banks (streams, rivers, lakes) and more. For more information on these and other erosion control options, please check out our Erosion Control Blanket Variety.

Customers Who Viewed This Product Also Viewed


Erosion Control:
Straw Blanket S2000BD
Erosion Control:
Coir Geo Blankets
Double Net Straw
Erosion Control Blanket
Questions about an erosion control blanket? We can help! Call our team at 1-863-261-8388 or fill out our quote request form to discuss your requirements.