Coco Straw Matting
Double Net Straw Coco Blend Erosion Control Blankets
Coco Straw Matting offers the perfect blend of strength and stabilization for use on hills, slopes and other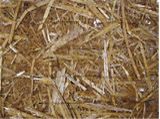 erosion prone areas. Made from a blend of straw and coconut coir fiber, these blankets are equipped to handle areas with slopes up to 2:1 and low to moderate flows.
Standard construction for the straw/coco blankets includes a blend of wheat straw and coconut coir fibers. Similar to a straw blanket, these fibers are typically supported by photodegradable jute netting. This allows the blanket to remain stable during use with vegetative growth, water flows and other erosion prone areas.
Straw Coco Blanket Features
Interior Fabric: 70% Wheat Straw and 30% Coir Fiber
Outer Netting: Double Photodegradable Polypropylene Netting
Thread: Photodegradable Nylon
Life Span: Up to 18 months

Straw Coco Blanket Benefits
Increased Support for Temporary Projects
Natural Blend of Wheat Straw and Coconut Coir
Equipped for Steeper Slopes, Channels & Medium Flows
Stabilizes Soil Until Vegetation can take Root
Added Stabilization for Roots

Typical Erosion Control Applications
Slope Stabilization on 3:1 to 2:1 slopes
Support in or along Medium-Flow Channels
Soil Erosion Control
Road Side Stabilization
Channel Support
Bank Stabilization

Coco Straw Matting
Erosion Control Specifications

Flyer

Installation

Contents

70% Wheat Straw 30% Coir Fiber

Netting

Double Polypropylene (photodegradable)

Thread

Nylon Photodegradable

Standard Width

8 feet/ 2.44 meters (actual 8' width)

Standard Length

113 feet/ 34.44 meters

Area

100 sq. yards/ 83.6 sq. meters (standard)

Weight (Approx)

53 lbs. / 24.1 kg (0.53 lbs./sq yard)

Life

Medium term, approx 18-24 months

Best use

3:1 to 2:1 slopes
Medium Flow
Channels

Thread Spacing

1 1/2 inches
Erosion Control Accessories

Erosion Control Accessories are a great addition to any site using straw blankets, coir matting or other erosion control materials. Ask about our standard and biodegradable accessory options.

Customers Who Viewed This Product Also Viewed


Questions? We can help! Call our team at +1-772-646-0597 or fill out our quote request form to discuss your requirements.