Erosion Control Straw Mats
Rapid Degrade Double Net Straw Blanket

90-day double net erosion control straw mats are economical solutions to temporary erosion control requirements along banks, rivers, streams and hillsides. Made primarily of biodegradable wheat straw, our blankets offer short term (90 day) control until vegetation is able to take root in the area.
The featured model is designed as a rapid degrade option. This means that rather than biodegrading over a period of 12 to 24 months, the straw mats will degrade over a time period of around 90 days. Rapid degrade models are commonly used in locations with fast rooting vegetation, grass, mowing or temporary erosion control requirements. Double net mats are equipped for use in medium flow channels and slopes up to 2:1.
Our friendly staff is here to help you get the exact product you need!.


Temporary Blanket Features




Matting Contents: Wheat Straw
Netting: Double Polypropylene Netting
Thread: Split Yarn
Built-in Ultraviolet Degrader (Dependant Upon Ultraviolet Activity)
Lifespan: 90 Day Net Design

Temporary Blanket Benefits




Rapidly Degrades over a 90 Day Period
Biodegradable Wheat Straw
Netting Photodegrades
Ideal for Short Term Projects
Temporary Stabilization for Steep Slopes
Increases Site Strength Until Vegetation can be Established
Standard Straw Erosion Control Applications
Short Term Projects
Steeper Slopes Establishing Grass Seed
Control along Riverbanks
Erosion Support in Medium Flow Channels
Slope Stabilization (Slopes 3:1 to 2:1)
Temporary Stabilization during Vegetative Growth
Erosion Control Straw Mat Technical Specifications
Flyer
Straw Blanket Flyer
Installation
Blanket Installation
Contents
100% Wheat Straw
Netting
Double Polypropylene (photodegradable)
Thread
Split Yarn
Life
Medium Term, 60 - 90 Days
Best Use
3:1 to 2:1 Slopes
Medium Flow Channels
Mass per Unit Area
9.49 oz/yd²
Roll Sizes
Widths: 8' or 16'
Lengths: 112.5' or 562.5'
Additional Product Information:
Erosion Control Accessories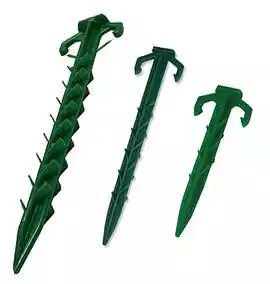 Ask about our erosion control accessories! Items include classic metal staples, wooden stakes, and biodegradable pegs.
Additional Double Net Options
Looking for something with additional strength? In addition to these short-term straw blankets, we also offer several addition Coir, Straw, and Wood Fiber Erosion Control Options that can be used for long-term, steep slope, or high flow areas. If you are not sure which option would be best for your location, please do not hesitate to contact us to discuss your project requirements.
See also this affordable USA made alternative to coir: Excelsior Erosion Control Excelsior Logs.

Customers Who Viewed This Product Also Viewed


Erosion Control:
Straw Blanket S2000BD
Erosion Control:
Double Net StrawCoco
Straw Erosion Blanket:
Double Net StrawCoco BD
Questions about a double net straw blanket? We can help! Call our team at 1-863-261-8388 or fill out our quote request form to discuss your requirements.