Coconut Straw Blankets
Biodegradable Erosion Control Blankets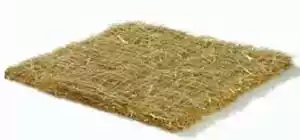 The coconut straw blanket is a reliable erosion control product used for stabilization along banks, slopes, hills and wetlands. Constructed from a mixture of coconut fiber and straw, our blankets are equipped to offer effective support in areas with 2:1 to 1:1 slopes and medium flows.
Straw/coconut mats are composed of a 70% wheat straw/30% coir fiber matrix that is placed in between two biodegradable nets. The combination provides increased strength and a lifespan of anywhere from 9 to 24 months. Mats have been used along riverbanks, streams, hillsides, and other locations looking to stabilize soil or control erosion.
Our friendly staff is here to help you get the exact product you need!.


Coconut Straw Erosion Blanket Features




Material Consistency: 70% Wheat Straw and 30% Coir Fiber
Biodegradable Double Netting
Standard Roll Sizes: 7.5' x 120' or 8' x 112.5'

Coconut Straw Erosion Blanket Benefits




Blends in Coconut Coir for Increased Support
Natural Solution for Establishing Vegetation
Enhanced Stabilization
Biodegradable Netting and Interior
Increases Vegetative Growth and Support
Coconut Straw Erosion Blanket Applications
Stabilization Along 2:1 to 1:1 Slopes
Erosion Control in Medium Flow Channels
Support Along Riverbanks
Soil Erosion Control on Sites
Control in Steeper Areas
Straw Erosion Blanket Technical Specifications
| | |
| --- | --- |
| Contents | 70% Wheat Straw 30% Coir Fiber Matrix |
| Netting | Double Biodegradable |
| Area | 100 yd² / 83.6 m² |
| Thickness | 0.33" (8.4 mm) |
| Tensile Strength | 223 x 134 lb/ft. (3.3 x 2.0 kN/m) |
| Elongation | 13.5% x 16.3% |
| Light Penetration | 12% |
Additional Product Information:
Straw Erosion Control Blankets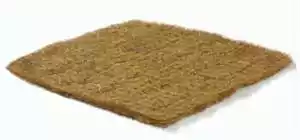 If you are looking for something that is shorter term, we do also offer a large variety of Straw Erosion Blankets made 100% from straw fibers. Straw blankets biodegrade in a time frame anywhere from 90 days to 1 year and are ideal for areas where vegetation will be established quickly.

Customers Who Viewed This Product Also Viewed


Double Net Coir Blanket
Biodegradable Coir Blankets
Straw Erosion Blanket:
Wheat/Straw/Coir
Questions about biodegradable erosion control blankets? We can help! Call our team at 1-863-261-8388 or fill out our quote request form to discuss your requirements.