Erosion Control Wattles
Construction Site BMPs for Sedimentation Control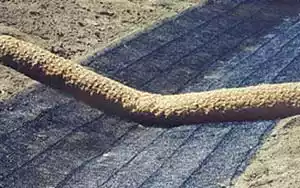 Question: I am looking for coir erosion control wattles or something similar that I can use around my construction site as a natural barrier. I need something that is about 20 ft. in length. Do you think this will work?
Answer: Coir Wattles are effective and environmentally-friendly construction site BMPs that control silt or sediment during your project. They are used around drains, dams, and other low flow areas to help filter sediment or silt out of the water.
Our friendly staff is here to help you get the exact product you need!.


Coir Wattle Features
As an all natural product, the sediment control wattle is made from coconut coir material that is environmentally safe. The bulk of the coir wattle is made using mattress coir fiber materials while the exterior uses bristle coir twine. Some features of coir wattles include:
Double Cleaned Unsorted Coir Fiber Material
High Strength Coir with Knotted Junctions
Diameters: 6" or 9"
Lengths: 10' or 20'
Coir Wattle Technical Specifications
| | | |
| --- | --- | --- |
| Diameter | 6 in (15 cm) | 9 in (23 cm) |
| Length | 10 or 20 ft (3.05 or 6.10 m) | 10 or 20 ft (3.05 or 6.10 m) |
| Weight | 1.5 lbs/ft (2.23 kg/m) | 3.0 lbs/ft (4.46 kg/m) |
| Density | 7 lbs/ft³ | 7 lbs/ft³ |
| Inner Core | Double Cleaned Unsorted Coir Fiber | Double Cleaned Unsorted Coir Fiber |
| Netting | Coir Twine with Knotted Junctions | Coir Twine with Knotted Junctions |
Coir Wattle Benefits
Erosion control wattles offer several unique advantages to effectively filter out sediment and other materials, especially in a construction site area. Some of these benefits include:
Biodegradable for no hassle removal
Quick installation around drains and on your site
Successfully retains sediment to keep area clean
Water keeps a steady flow around your site
Construction BMPs for drain guards or inlet protectors
In addition to filtering out sediment on construction sites, the erosion control wattles are used as check dams in low flowing streams and as construction erosion control measures along banks.
Erosion and Sedimentation Control for Construction Sites
Every construction site has an erosion and sediment control plan to stay in compliance with local and federal regulations. Sediment must be controlled around every part of the area that may lead to waterways and sewer systems.
Storm Drain and Inlets ? Coir wattles can be placed around curb inlets and other drains to filter out sediment and debris from any stormwater or other runoff going through the construction site.
Hills and Slopes ? Wattles are one of many sediment control products that can also be used for construction erosion control on hills or slopes around an uneven site, such as interstate ramp construction.
Check Dams ? If there are streams or drainage ditches around the site, the erosion and sediment control plan must include check dams to reduce water velocity. Coir wattles act as a break in the water as well as a barrier against unwanted trash and debris.
See also this affordable USA made alternative to coir: Excelsior Erosion Control Excelsior Logs.
Questions about sediment control products? We can help! Call our team at 1-863-261-8388 or fill out our quote request form to discuss your requirements.

Customers Who Viewed This Product Also Viewed


Dewatering Bags
Erosion Control:
Coir Wattles
Construction BMPs