6 oz. Nonwoven Geotextile
Filter Fabric for Slope Stabilization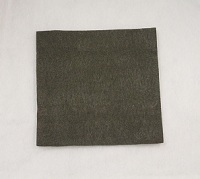 6 oz. nonwoven geotextiles are the first size in the medium weight class for synthetic geotextiles. The medium weights range from 6-8 oz and can take on heavier applications than a lightweight filter fabric. They are a better sediment filter when running liquid through the textile, and when it comes to strength, they can stabilize, separate, and support erosion as well.
6 oz. nonwoven geotextiles are made from needle punctured polypropylene and feature a grab tensile strength of 160 pounds. More cost effective, stronger, and better at filtering than the organic geotextiles, our nonwoven geotextiles are often better suited for erosion control applications.
Nonwoven Geotextiles come in tensile strengths ranging from 80 to 380 pounds. Additionally, all polypropylene geotextiles are UV and chemical resistance.
If you have questions about products, give us a call at 1-863-270-8118 or request a price quote.
6 oz. Woven Geotextile Fabric Features

Fabric: Needle Punctured Polypropylene
Roll Sizes: 12.5' x 360' and 15' x 300'
Roll Weight: 160 lbs
Water Flow Rate: 110 gpm/ft²

6 oz. Woven Geotextile Fabric Benefits

Cost Effective Erosion Control
Naturally Holds up to UV Rays
Resists Exposure to Chemicals
Filters and Retains Sediment
Medium Weight Geotextile Fabric
Flexible Design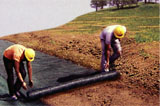 6 oz. Woven Geotextile Fabric Standard Erosion Control Applications
Separation
Stabilization
Sediment Filter
Erosion Control
River Embankment
Rip Rap Stabilization
Subsurface Applications
6 oz. Nonwoven Geotextile Technical Specifications
Property
Test Method
Unit
Minimum Average Roll Value (M.A.R.V.)
Weight
ASTM D5261
oz/yd² (g/m²)
6 (203)
Grab Tensile
ASTM D4632
lbs (kN)
160 (.711)
Trapezoid Tear Strength
ASTM D4632
lbs (kN)
65 (.267)
Grab Elongation
ASTM D4632
%
50
Permittivity
ASTM D4491
sec-1
1.5
Water Flow
ASTM D4491
gpm/ft² (l/min/m²)
110 (4480)
A.O.S
ASTM D4491
U.S. Sieve
70 (.212)
UV Resistance
ASTM D4355
%/hrs
70/500
Roll Sizes
12.5' W x 360' L (4,500 ft²/roll)
15' W x 300' L (5,400 ft²/roll)
Product Flyer
Nonwoven Geotextile Flyer (PDF)
Specification Sheet
6 oz. Fabric Specifications (PDF)
Geotextile Installation
Geotextile Installation (PDF)
| | |
| --- | --- |
| For geotextile securement accessories, please call us at 1-863-270-8118! | |
If our nonwoven geotextiles are too flexible or not strong enough, try Woven Geotextiles. These textiles are designed for high strength stabilization areas, have a wide range of thicknesses, weight, and tensile strength that tend to be higher then the nonwoven.
Customers Who Viewed This Product Also Viewed

4.5 oz Nonwoven Geotextile
8 oz Nonwoven Geotextile
10 oz Nonwoven Geotextile
If you have questions about products, give us a call at 1-863-270-8118 or request a price quote.