8 oz. Nonwoven Geotextile
Filter Fabric for Sediment Control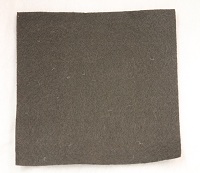 The 8 oz filter fabric is one of the strongest and most common medium weight nonwoven geotextiles. With a tensile strength of 205 pounds, it can provide sediment control on hillsides and riverbanks. It is great for filtering and commonly used in french drain systems. Made of polypropylene with a needle puncture process, the fabric is strong and flexible.
Our geotextiles are a great alternative fabric for erosion control. They are stronger and last longer than biodegradable mats. Along with these factors, synthetic nonwoven geotextiles are resistant against UV rays, mildew, biological degradation, and many chemicals found in the ground.
Our friendly staff is here to help you get the exact product you need!.


Features

Fabric: Needle Punctured Polypropylene
Roll Sizes: 12.5' x 360' and 15' x 300'
Tensile Strength: 205 lbs
Water Flow Rate: 90 gpm/ft²
85 lb Puncture Resistance

Benefits

Reliable Separation and Filtration
High Resistance to UV Rays and Biological Chemicals
Cost Effective Erosion Control
High Level of Flexibility and Strength
Standard Applications
Roadway Stabilization
French Drain System Applications
Soil Erosion
Wind Erosion Prevention
Restoration Projects
Separation
Sediment Filter
8 oz. Nonwoven Geotextile Technical Specifications
Property
Test Method
Units
Minimum Average Roll Value (M.A.R.V.)
Weight
ASTM D5261
oz/yd² (g/m²)
8 (271)
Grab Tensile
ASTM D4632
lbs (kN)
205 (.911)
Grab Elongation
ASTM D4632
%
50
Trapezoid Tear Strength
ASTM D4533
lbs (kN)
85 (.378)
Puncture Resistance
ASTM D4833
lbs (kN)
535 (2.37)
Water Flow
ASTM D4491
sec-1
1.4
Permittivity
ASTM D4491
gpm/ft² (l/min/m²)
90 (3657)
A.O.S
ASTM D4751
U.S. Sieve (mm)
80 U.S. (.180)
UV Resistance
ASTM D4355
%/hrs
70/500
Roll Sizes
12.5' W x 360' L (4,500 ft²/roll)
15' W x 300' L (5,400 ft²/roll)
Additional Nonwoven Geotextile Options
Woven Geotextile Alternative
Alternatives for erosion control and stabilization are Woven Geotextiles. These textiles help with stabilization under rip rap, around erosion control areas, and more. They are stronger and firmer than most nonwoven textiles and are often better suited for separation and stabilization applications.
Customers Who Viewed This Product Also Viewed


6 oz Nonwoven Geotextile
10 oz Nonwoven Geotextile
12 oz Nonwoven Geotextile
Questions about filter fabric? We can help! Call our team at 1-863-261-8388 or fill out our quote request form to discuss your requirements.