Straw Erosion Control Blankets
Double Net Blanket with Jute Netting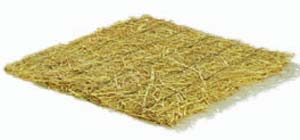 Double net straw erosion control blankets are strong and reliable options low level areas (3:1 to 2:1 slopes) and low-medium flow locations. Built with a double net jute exterior, our blankets offer increased strength for steeper areas or higher flow locations.
Construction of the straw blanket features biodegradable wheat straw placed between two biodegradable jute nets. This combination offers a completely natural erosion control option that will biodegrade over a period of approximately 12 months. Biodegradable double net blankets are ideal for areas with environmental concerns or sensitive locations.
Our friendly staff is here to help you get the exact product you need!.


Straw Blanket Features




Base Material: Wheat Straw
Netting: Double Jute Biodegradable
Thread: Jute Yarn
Life Span: Approx. 12 Months

Straw Blanket Benefits




All Natural Netting and Materials
Safe for Projects with Wildlife or Sensitive Surroundings
Easy Erosion Control and Stabilization
Supports Soil in Moderately Slopes or Moderate Flow Areas
Reinforces Areas Until Plants Take Root
Double Netting for Increased Support
Standard Straw Erosion Control Applications
Stabilization along Riverbanks and Lakes
Erosion Support in Medium Flow Channels
Slope Stabilization (Slopes 3:1 to 2:1)
Support for Vegetative Growth
Restoration Projects
Stabilization in Environmentally Sensitive Areas
Straw Erosion Control Blanket Technical Specifications
Flyer
Straw Blanket Flyer
Contents
100% Wheat Straw
Netting
Double Jute (biodegradable)
Thread
Jute Yarn
Sizes
Widths: 8' or 16'
Lengths: 112.5' or 562.5'
Lifespan
Medium Term, Approx. 12 Months
Best Use
3:1 to 2:1 Slopes
Medium Flow Channels
Thread Spacing
1.5"
Additional Product Information:
Erosion Control Accessories

Ask about our erosion control accessories! Items include classic metal staples, biodegradable and wooden stakes, and biodegradable pegs.

Customers Who Viewed This Product Also Viewed


Double Net Coir Blanket
Double Net Straw/Coconut
Double Net Straw/Coconut BD
Questions about temporary erosion control? We can help! Call our team at 1-863-261-8388 or fill out our quote request form to discuss your requirements.