Woven Geotextile 150
Stabilization Fabric for Erosion Control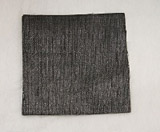 Woven geotextiles are a high strength fabric designed for support. Often considered a cost effective stabilization solution, our woven geotextiles have outperformed conventional methods and increased stabilization along walls, roads, and railways.
The 150 woven geotextiles are made from a polypropylene slit film and feature increased stabilization strength. All models are sold by the roll with a standard size of 15 ft. width and 300 ft. length. As with all of our geotextiles, these models are designed with properties that help protect against UV exposure, chemicals, and rot.
Questions? We can help! Call our team at 1-772-646-0597 or fill out our quote request form to discuss your requirements.
Features

Fabric: Woven Polypropylene Slit Film
Grab Tensile Strength: 150 lbs
Roll Size: 15' x 300'

Benefits

Cost Effective
Naturally Holds up to UV and Chemical Exposure
Can Reduce Aggregate Thickness by as much as 50%
Increase Strength when used under Rip Rap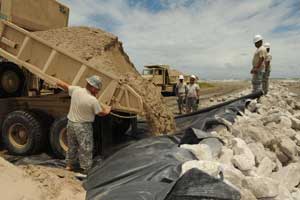 Standard Erosion Control Applications
Separation
Stabilization
Road Construction
Erosion Control
Aggregate Separation
Rip Rap Stabilization
Woven 150 Geotextile Technical Specifications
Property
Test Method
Unit
Minimum Average Roll Value (M.A.R.V.)
Weight
ASTM D5261
oz/yd²
3
Grab Tensile
ASTM D4632
lbs
150
Grab Elongation
ASTM D4632
%
20
Permeability
ASTM D4491
sec-1
0.05
Water Flow
ASTM D4491
gpm/ft²
34
UV Resistance
ASTM D4355
%/hrs
70/2500
Roll Size
15' x 300'
Product Flyer
Woven Geotextile Product Flyer
Fabric Specification Sheet
Woven 150 Specification Sheet
| | |
| --- | --- |
| For geotextile securement accessories, please call us at 1-772-646-0597! | |
Woven Geotexile Options
While 150 woven geotextiles are a great option for any location dealing with roads or separation requirements, this stabilization fabric is one of many designed to increase strength under rip rap and dirt roads. Additional fabric options include:
For more options regarding geotextiles, check out our Woven and Nonwoven Geotextile Variety.
Customers Who Viewed This Product Also Viewed


Shade Material
Geotextiles for
Erosion Control: 315ST
Geotextiles for Erosion
Control: 200ST
If you have questions about woven geotextiles, give us a call at +1-772-646-0597 or request a price quote.