Fiber Logs for Erosion Control
Biodegradable Erosion Control Logs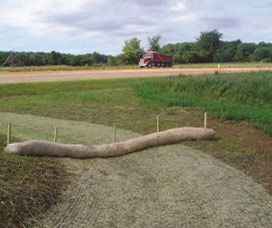 The Excelsior fiber logs for erosion control are produced from 100% natural Aspen wood fibers. These biodegradable logs and wattles make a great alternative to coir, as they are less expensive and ship faster. They are ideal for soil stabilization and support along riverbanks, slopes, steams, hillsides, and other erosion prone areas. The versatile Excelsior wattles and logs are created with a unique fiber of curled Aspen wood shavings, making this an economical sediment control. Soft curled fibers produce porous, interlocking barbs allowing water and sediment to pass through the Excelsior matrix.
Erosion control logs are used for sediment control in slope stabilization and the natural creation of borders along waterways and shorelines. More flexible and less dense, our wattle makes excellent perimeter control for slopes and drainage inlets. Excelsior logs and wattles are made in the USA and ready to ship to you. Talk with one of our knowledgeable team to help you find the right Excelsior erosion and sediment control wattles and logs for your project.
Our friendly staff is here to help you get the exact product you need!.


Note: Coir, like many products sourced from overseas, is less available due to trouble with supply and getting the products through port systems. Across the entire industry, Coir is not only less available, but also more expensive. However, we do have erosion control alternatives. Contact us to learn about our affordable and more readily available alternatives to coir, including these biodegradable options. Call or contact us for pricing or with questions at 863-251-5111.
Interested in our other biodegradable erosion control products? See our helpful guide on all the Erosion Control Products we offer!
Excelsior Erosion Control Logs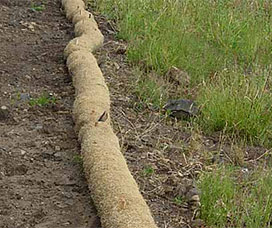 Excelsior erosion control logs create natural borders along shorelines, waterways, and other slopes. They are a great erosion control alternatives for slopes already experiencing erosion and needing stabilization. Our biodegradable logs are ideal for starting seedlings in bare soil or in areas that have washed away. Simply make holes in the Excelsior logs, plant the seedlings, and allow time for vegetation to grow. Because our logs are eco-friendly, they merely degrade over time, enriching the soil as it bonds to the fibers. Made with Aspen wood fibers, water is able to filter through (not underneath) porous, Excelsior fiber logs. Water velocity is reduced and sediment is retained, slowing the erosion process. Excelsior erosion control logs last between one to two years, giving enough time for stabilization to occur. Parks and Recreation departments also use our alternative fiber logs in public parks or rec areas to restore creeks, streams, and other waterways. For more information about Excelsior logs, talk with one of our specialist.
Erosion Control Logs Specifications
| | |
| --- | --- |
| Roll Diameter | 9-20 in. Diameter |
| Roll Length | 10-25 ft. |
| Weight per Length | 2.5 -5 lbs./ft. |
| Filtration | High |
| Flow | Minimum Rate |
| Matrix | 100% Excelsior Wood Fiber, 0.73 lbs/yd² |
| Roll Diameter | 9-20 in. Diameter |
Excelsior Erosion Wattles
Excelsior wattles are designed to be used as perimeter controls on slopes, check dams, at curb cuts and around drain inlets. Similar to erosion control logs in design and purpose, the inner material is more dense and flexible. Made with Aspen wood shavings, the biodegradable fibers are evenly distributed throughout flexible cylinders, helping them contour to terrain and inlets. Because Excelsior wattles offer greater flexibility and filtration options, they are often used as an erosion preventative, directing groundwater flow while still filtering out sediment. Construction projects also use fiber logs on site to contain contaminants and keep them out of public areas, preventing pollution fines. To find out more about excelsior wattle and pricing options,call us today!
Erosion Wattles Specifications
| | |
| --- | --- |
| Roll Diameter | 6-20 in. Diameter |
| Roll Length | 10, 20 or 25 ft. |
| Density | 2.08-3.82 lbs./ft. |
| Matrix | 100% Aspen Wood Fiber |
Features of Excelsior Logs and Wattles
All Natural Aspen Wood Fibers
Porous, Interlocking Barbs
High Filtration
Plant-able
10-25 ft. Roll Length
Benefits of Excelsior Logs and Wattles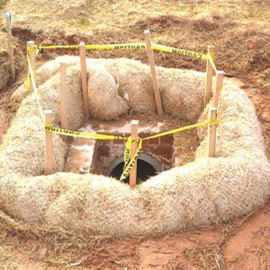 Biodegradable
Multiple Logs Can be Joined Together
High Strength Materials
Resistant to Water Flows and Small Waves
Helps Provide a Durable Barrier
Restores Vegetation
Standard Erosion Control Applications
Restoration of Marshes
Construction Site Perimeter Control
Beach Restoration
Drain Protection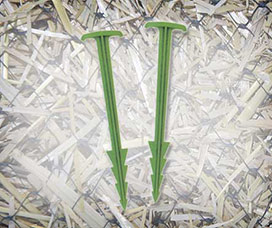 Ask about our erosion control accessories! Accessories are critical when installing any of our Excelsior Aspen wood fiber rolls, mats, or erosion control blankets. Available accessories include:
Wooden Stakes
Staples
Pegs
Coir Twine
See all the Biodegradable Products
Need more information on our biodegradable erosion control solutions? See our Erosion Control Line Card.
Questions about the coir log or other coir products? We can help! Call our team at 1-863-261-8388 or fill out our quote request form to discuss your requirements.


Customers Who Viewed This Product Also Viewed


Non Woven Geotextiles
Coir Mats
Jute Matting