Streambank Erosion Control
Erosion Control Solutions with Coir Products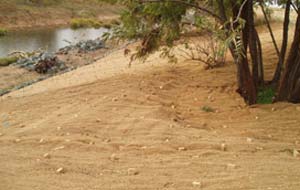 Question: We are looking for a form of stream bank erosion control. We recently cleared some ditch liners and are thinking we should put something on the banks to control the erosion. What would be a good option?
Answer: Thank you for contacting us! For streambank erosion control, there are a couple of different options you could consider. Many customers choose to use items such as the Erosion Control Mat, as it can naturally line the banks of a stream and help revegetate areas through its open weave design. Another option you may consider are coir logs. Made from the same natural fibers, the coir log can offer a higher level of control for dealing with streams or heavy flows.
If you have questions about coir products, give us a call at +1-772-646-0597 or request a price quote.
Coir Mats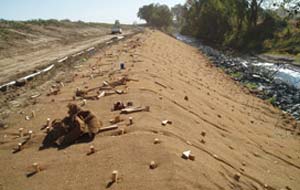 The coir erosion control mat is a 100 percent natural and biodegradable product that can been used to provide erosion control along banks, slopes, shorelines, and various other erosion prone areas. The coir mats are made from woven machine-spun bristle coir twine that provides room for planting vegetation, while also offering natural biodegradation.
Common features and benefits found when using this product include:
Open Weave Design: The coir erosion control mat shown here is a semi-permanent model that features an open weave design. This leaves enough room for planting seeds both before and after installation.
Natural Coir Fibers: The natural coir fibers used for this product are ideal for environmentally sensitive areas and are 100 percent natural. This means they will naturally biodegrade after a period of time and leave enriched soil.
Semi-Permanent: This particular coir mat is a semi-permanent model, meaning it will last for around four to six years (4-6 yrs). This is long enough for vegetation to take root and form a natural erosion control area.
For erosion control mats with shorter life spans, larger weaves, or different product construction, please view our complete selection of Erosion Control Mats.
Coir Logs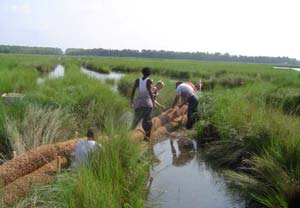 In addition to coir mats, another great option for streambank erosion control is the Coir Log. This coir product is designed as a densely packed tube that can be placed and installed along shore lines, stream banks, and more. Made from the same natural coir fiber, coir logs can provide a solid and firm bank that can help vegetation take root.
Features Include:
Coconut Coir Fiber
9", 12", 16", or 20" Diameters
Coir Twine Outer Net
Inside Coir Fibers
Rolls Can be Joined Together
Questions about coir products? We can help! Call our team at +1-772-646-0597 or fill out our quote request form to discuss your requirements.