Coconut Coir Fiber Products
Coir Logs, Wattles, and Coconut Coir Mats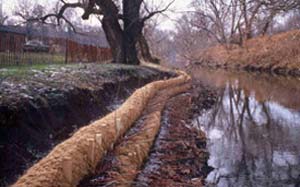 Coconut coir fiber products feature some of our toughest erosion control materials for use on steeper slopes, longer term erosion control areas, or high flow locations. Coir fiber materials are derived from the husks of coconuts to create high strength products such as coir logs, erosion control mats, and high filtration coir wattles. Depending on your intended application and location, different coir products may work better than others at controlling and stabilizing areas.
Questions about coconut coir fiber? We can help! Call our team at +1-772-646-0597 or fill out our quote request form to discuss your requirements.
Coir Logs
A favorite for use along banks, hills, or slopes, Coir Logs (pictured above) are designed with a high strength outer twine netting and interior mattress coir fibers for soil stabilization and shoreline restoration. Coir logs can be built in different diameters, ranging from 9" to 20". Larger erosion control logs are often used in more demanding locations or areas where there is a higher expected water flow.
Coconut Coir Mats

For areas in need of low-level soil stabilization or the establishment of vegetation, coconut coir mats are a must. Coir Mats feature an open weave design that allows for plant seeds or vegetation to be planted directly through designated openings along the mat. These openings allow enough space for roots to be established and to take growth in your area.
Designed to be slightly tougher than straw, the coconut coir mats will feature an extended life span of anywhere from four to six years. Over this period, the coir mats will slowly begin to biodegrade into the surrounding areas. This will help to enrich the soil and further facilitate growth.
Coir Wattles

For areas looking to deal with increased filtration needs, Coir Wattles are a popular choice. While not as densely packed as coir logs, coir wattles are capable of higher levels of filtration for placement around storm drains, inlets, and construction sites. As water passes through these wattles, sediment and other materials are slowly filtered out. This has helped to remove silt and other small particles from various stormwater runoff materials.
Questions about our coir products? We can help! Call our team at +1-772-646-0597 or fill out our quote request form to discuss your requirements.