Sediment Filter Bags
Silt and Sludge Removal Through Dewatering
Are you looking for a sediment filter to capture silt, sediment, or even oil during pump-out dewatering operations? You're in the right place. We carry a variety of dewatering bags, including: sediment-only dewatering bags, oil and sediment dewatering bags, and reusable dewatering bags. Custom options and other dewatering products are also available.
Sediment filtration bags are used for many different applications, and identifying the right sediment filter bag for your project isn't always easy. Knowing the type of material being captured, the pump flow through rate needed, and the volume of liquid you will be dealing with are helpful in ensuring project success.
For standard project sizes, you'll want to go with the dewatering sediment filter bag, but we also carry other sized dewatering filtration solutions like the geotextile dewatering tube for large applications and the dewatering sock for smaller volumes of water. Here are some common dewatering bag applications:
Pumping of Trenches
Cleaning of Small Ponds or Lakes
Dewatering of Power Plants
Site Location Water Sediment Removal
Our friendly staff is here to help you get the exact product you need!.


Types of Sediment Filter Bags
We carry a variety of sediment filter bag types and sizes to ensure the best fit for your project's needs. When selecting a dewatering solution, the first place to start is to consider the type of sludge that will be filtered.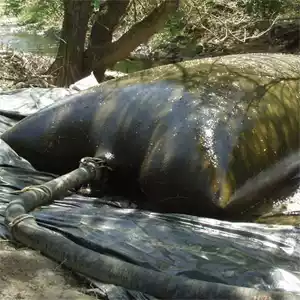 The sediment only filter bag will accommodate a 4" discharge hose and is made of nonwoven geotextile. Dimensions of this dewatering bag include 3'x4', 6'x6', 8'x8', 10'x15', 15'x15'. The max flow rate of this dewatering bag is 500 gallons per minute. When you use this sediment filter bag, you can be sure that the sediment pumped from your job site will be captured, and clean water will flow out of the bag.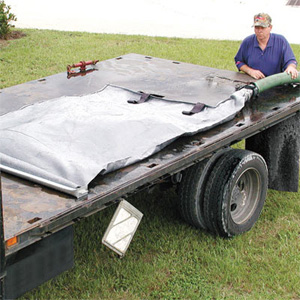 For budget friendly dewatering solutions, a reusable dewatering bag is a great option. Reusable dewatering bags are made with heavy duty nonwoven geotextile that can withstand multiple dewatering projects. The reusable dewatering bag works with discharge hoses of up to 6". The galvanized steel locking rods easily and quickly secure the bag for reliable dewatering performance.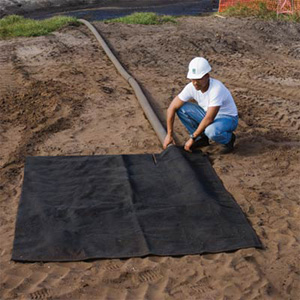 Need to capture both oil and sediment? We carry oil and sediment filtration bags that can capture both sediment and oil from discharged water. Capture oil and hydrocarbons from runoff before it enters the storm drain. Standard and custom sizes are available.
Features of Dewatering Bags
Dewatering bags are an economical solution that can trap silt, sediment, and oil while release clean water. Sediment filter bags are made from nonwoven geotextile that is best equipped for filtration of sediment and hazardous materials.
Nonwoven Geotextile Material: The nonwoven material is extremely durable and well equipped to contain your hazardous materials and remove them from the water.
Pipe Hookups: These dewatering bags accommodate pipes up to 6 inches.
Filters: Sediment, Silt, and Oil
See all our Dewatering Bag options.

Customers Who Viewed This Product Also Viewed


Dewatering Hose Connectors
Dewatering Sock
Breakwater Dewatering Tubes
Questions about dewatering bags? We can help! Call our team at 1-863-261-8388 or fill out our quote request form to discuss your requirements.