Erosion Control Products
Erosion Control Mats, Blankets,
Wattles and Logs
Erosion Control Products are an essential part to any stabilization, reinforcement, or restoration project. Perfect for banks, slopes, hillsides, or channels, these products reinforce surrounding areas to prevent erosion and allow vegetation to take root. Whether you need something biodegradable, temporary or permanent, we have a product that can meet your needs. Available options include woven and nonwoven geotextiles, straw blankets, coir mats, wattles, and logs. Find out more by clicking on our products below or giving us a call at (+1) 772-646-0597.
Here at Granite Environmental, we aim to meet the needs and requirements for any project or erosion prone area. Offering a wide selection of geotextiles, mats, blankets and coir, our products have been implemented in a range of applications to control sediment and prevent the spread of pollution.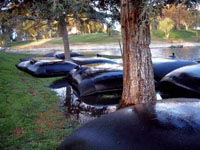 Sediment Control: Control of sediment can encompass a wide range of needs and requirements on a site. For this reason, available products range from natural fiber logs to geotextiles dewatering bags. Some of the most commonly used sediment control products can be seen below:
Coir Logs
Straw Wattles
Coir Wattles
Dewatering Bags
Dewatering Tubes



Stabilization and Separation: When looking for long term stabilization or separation applications, one of the most common products offered is a woven or non woven geotextile. These products are made in different strengths to help separate aggregates and subsoils or stabilize roads prior to paving.
Woven Geotextiles
Non Woven Geotextiles
TRMs

Soil Reinforcement: Soil Reinforcement and Stabilization is a common requirement for any site dealing with erosion along riverbanks, slopes, streams or even hills. Designed to add strength and security to soil areas, these products fortify the area until native vegetation is able to take root. Customers have used a wide range of products including the following:
Coir Logs
Erosion Control Mats & Blankets
Geotextiles
Coir Blocks
Find out how our resident experts can help you today! Please give us a call @ (+1) 772.646.0597 or toll free: 888.703.9889 and our team will be happy to help you.
Choosing your Erosion Control Products
In order to meet the needs of multiple locations, Granite Environmental offers a wide range of both biodegradeable and synthetic products. Choosing the right model for your location will often depend on your slope, water flow and required lifespan.
Biodegradable Products
For many locations, having a natural and biodegradable option is essential to protecting the surrounding areas and keeping wild life safe. For stabilization and bank protection, available options include:
Synthetic Products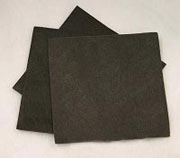 For areas that require a long-term solution, synthetic geotextiles are also available to help with stabilization, aggregate separation, erosion control, road stabilization and filtration. Available products include:
Erosion Control Applications and Uses
Erosion Control Products are one of the most versatile products available for stabilizing areas, controlling erosion and establishing vegetative growth. Some of their many uses include the following:
Slope Stabilization
Hillside Control
River, Stream, and Bank Stabilization and Control
Stabilization under Rip Rap
Reinforcement for Roads, Gravel Roads, and Asphalt Underlayment
Construction Site Control
Dewatering of Lagoons, Ponds and Small Storage Areas