Straw Blankets
Straw Blankets are an ideal choice for erosion control, vegetative growth, and soil stabilization in your location. Depending on the requirements of your location, these erosion blankets are available with multiple netting styles to match the needs of your area. Typical options include either a single net or double net exterior that is made from photodegradable polypropylene, biodegradable jute, or rapid degrade polypropylene fabrics. Each will provide a reliable option for controlling erosion in the area and allowing plants to take root.
| | |
| --- | --- |
| | If you have questions about any of our products, give us a call at (+1) 772.646.0597 or toll free at (+1) 888.703.9889 or request a price quote. |
Erosion Control Blanket Accessories
Biodegradable Stakes, Staples and Pegs
Straw Erosion Control Blanket Construction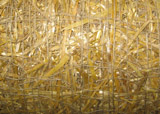 Working to address needs a requirements of a range of location, each blanket is typically built with the following components:
100% Wheat Straw Fibers
Netting Construction
Netting Options

Standard: Photodegradable Polypropylene
Biodegradable: Jute
Rapid Degrade: Enhanced Polypropylene
Depending on your location, different options may be better equipped than others at controlling erosion and providing vegetation.

Where is Each Blanket Used?
Choosing between each of these options will typically depend on where you will be implementing the blanket. As a general rule of thumb, double net blankets will typically tend to be higher in strength and can be used on areas with steeper flows or increased water flows.
Single Net Blankets: Slopes up to 3:1
Double Net Blankets: Slopes up to 4:1
In addition, each netting is made from either a standard, biodegradable or rapid degrade material.
Standard Netting: This is our most commonly used straw blanket material. Netting is made from a photodegradable polypropylene that will slowly degrade as it is exposed to light.


Biodegradable Netting: Jute netting is our typical biodegradable option and is frequently used in locations with environmentally sensitive surroundings.


Rapid Degrade Netting: This netting uses the same polypropylene fabric, but includes a rapid degrade option that to help speed up the degrading process. This is ideal for locations with vegetation that will take root quickly or for areas with mowing requirements.
| | |
| --- | --- |
| | If you have questions about any of our products, give us a call at (+1) 772.646.0597 or toll free at (+1) 888.703.9889 or request a price quote. |

Choosing a Straw Mat:
Any time you are choosing between various erosion control options, there are a couple of factors we urge customers to take into consideration in order to best determine the right matting for their location. Common conditions that are taken into consideration include:
Slope: 4:1, 3:1, 2:1 etc.


Flow: Low-Flow, Medium-Flow


Duration: Short Term (90 days), Medium (up to 1 year), Longer Term (up to 24 months)
For erosion control options that will work longer than 90 days, blankets that feature a blend of both straw and coconut fibers can be a great choice. Due to the robust nature of the coconut coir fabric, these mats are often able to be used for longer term projects, steeper slopes and higher flow areas.


Straw Blanket Applications:
Applications for the straw mat can vary anywhere from erosion control in your residential area to erosion control on large landscaping projects. They are a frequent choice for areas where vegetation needs to take root quickly and are most commonly used in the any of the following areas:
Hillside Erosion Control
Slope Control
Landscaping Jobs
Construction Projects
Soil Reinforcement
Erosion Protection
Low Flow Channels
Not sure which blanket is right for your location? Give us a call at 772-646-0597 or toll free 888-703-9889 and our team would be happy to discuss your requirements with you.