Pipe Sock
Dewatering Sock for Runoff Pipe Filtration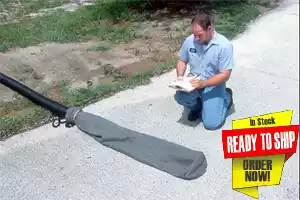 Pipe sock from UltraTech is made from a durable geotextile filter fabric that will absorb sediment, oil and other hydrocarbons, and other liquid contaminants. Perfect for pond applications where pipes extend above the water's surface, the pipe sock will help keep you in compliance with contaminated runoff. The sediment filter sock is great for small dewatering jobs. For other options, see our full line of dewatering products.
Our friendly staff is here to help you get the exact product you need!.


Pipe Sock Features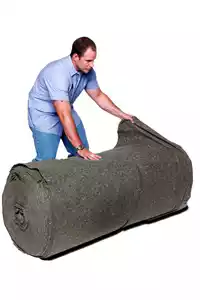 Made of a recycled geotextile fabric called Ultra-Filter-Tex, the dewatering sock from UltraTech is capable of absorbing oils and hydrocarbons in stormwater runoff. The sediment filter sock diameter will determine the capacity of oil it is able to contain. 8" diameter pipe socks will hold 1.7 gallons (6.4 L). 12" diameter pipe socks will hold 2.6 gallons (9.8 L). 16" diameter pipe socks will hold 3.5 gallons (13.2 L). Sock drain dewatering and sock pipe dewatering require smaller dewatering products. Sediment filter sock features:
Made of Ultra-Filter-Tex Absorbent
Holds Up to 3.5 Gallons (13.2 L) of Oil
Captures Both Oil and Sediment
Pipe Sock Benefits
The sediment filter sock or pipe sock has numerous benefits. The sediment filter sock is made from recycled absorbent geotextiles called Ultra-Filter-Tex that will capture both oil and sediment. The silt filter sock helps keep you in compliance with NPDES, 40 CFR 122.26 (1999) and can be used as a Best Management Practice for Storm Water Pollution Prevention Plans. The pipe sock will be perfect for smaller dewatering jobs. Other dewatering products, like the dewatering bag, are better for larger dewatering projects. Other sediment filter sock benefits:
Made in the USA
Made from Recycled Materials
Reliable Filtration Performance
Keeps you in Compliance
If you need pipe sock pricing, give us a call at 1-863-261-8388 or request a quote.
Ultra Pipe Sock Specifications
| Part # | Description | Dimensions in. (mm) | Oil Capacity gal. (L) | Weight lbs. (kg) |
| --- | --- | --- | --- | --- |
| Ultratech 9705-O/S | Oil & Sediment | 8 dia. x 60 L (204 x 1,524) | 1.7 (6.4) | 2.0 (1.0) |
| Ultratech 9706-O/S | Oil & Sediment | 12 dia. x 60 L (305 x 1,524) | 2.6 (9.8) | 3.0 (1.5) |
| Ultratech 9707-O/S | Oil & Sediment | 16 dia. x 60 L (407 x 1,524) | 3.5 (13.2) | 3.0 (1.5) |
Dewatering Sock Installation and Pipe Sock Applications
Dewatering sock installation is quite simple. Each Ultra pipe sock will attach directly to the pipes using the straps that are pre-attached to the dewatering sock. Simply tie the straps around the pipe to keep it in place. An optional hose clamp is available separately.
When considering if you need an Ultra pipe sock or silt filter sock for your dewatering application, take into account the volume of water you are encountering, the water flow, and type of contaminant in the runoff. Sock drain dewatering and sock pipe dewatering usually accompany smaller projects with lower flow rates.
Have a large dewatering or sludge removal project? Dewatering bags are used for standard dewatering projects, which require higher flow rates than a dewatering sock can handle. Need extra containment in your bags? See our Dewatering Geotextile Tube. Larger in size and capacity, these tubes are able to store significant amounts of material in a single storage container.
Other Dewatering Products
Is the pipe sock not the dewatering product you were looking for? Maybe you were searching for a completely different type of product. For other dewatering options, see: Dewatering Products.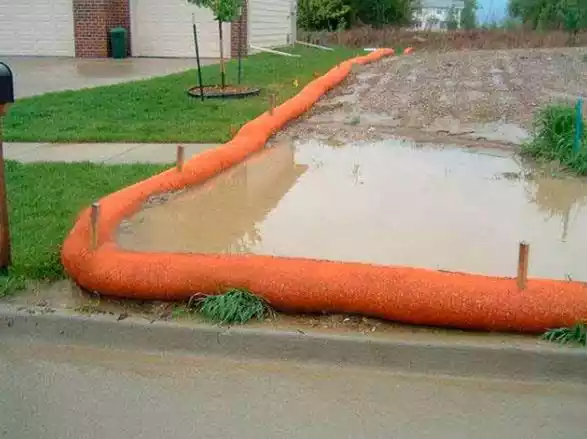 We also carry other sock-like erosion control devices and products for your jobsite. The silt sock, also known as the compost filter sock is used for perimeter filtration and erosion control. The Ultra filter sock is also an erosion control product used for filtration around storm drains. Both erosion control devices are used for filtration and perimeter control.

Customers Who Viewed This Product Also Viewed


Dewatering Hose Connectors
Dewatering Bags
Breakwater Dewatering Tubes
Questions about dewatering bags? We can help! Call our team at 1-863-261-8388 or fill out our quote request form to discuss your sludge filtration requirements.