Erosion Control Blanket
Straw Blankets, Wood Fiber Blankets
& Straw-Coco Blends
Granite Evnrionmental's Erosion Control Blanket Variety offers a range of natural fiber products to help control erosion on slopes, channels, banks, roads and hillsides. Working to meet both short-term and long-term requirements, available products include coir, straw, wood fiber, and straw-coco blends. Please feel free to browse through our variety below to find the best option for your location.
| | |
| --- | --- |
| | If you have questions about products, give us a call at (+1) 772.646.0597 or toll free at (+1) 888.703.9889 or request a price quote. |
Coir and Straw Blankets
Erosion blankets are designed to adds structure to your natural fibers (such as wheat straw and coconut fiber) by sewing fiber blends to a photo-degradable net. By using natural materials, these items will slowly biodegrade to enrich your surrounding area. This helps to create an enriched area for vegetation to take root.

Choosing a Straw Erosion Blanket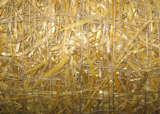 Choosing between straw erosion control blankets is often dependant on your specific application, the flow in your area or the steepness of your slope. For straw, there are two main types of erosion blankets:
Single Net Straw Blanket
Double Net Straw Blanket
Single net straw blankets are designed for applications with low slopes, low flows, or temporary control requirement.
Double net straw blankets, by contrast, contains two netting materials to increase the the strength of the mat and provide additionally stability to your location. These erosion control blankets can be used in slightly more demanding locations, such as mild slopes (2:1) or medium flows. Both single and double net straw blankets are available in the following options:
Rapid Degrade (90 days)
Standard Netting (Photodegradable Polyproplyene)
Biodegradable Netting (Biodegradable Jute)
This variety helps to address stabilization requirements in almost any location.
| | |
| --- | --- |
| | If you have questions about products, give us a call at (+1) 772.646.0597 or toll free at (+1) 888.703.9889 or request a price quote. |


Coco Blend Erosion Blankets
In addition to these double net straw blankets, we also offer a range of stronger net blankets designed to help with higher flow rates, steeper slopes or longer-term use. Some of the strongest options available typically include the Coir Fiber Blankets. These blankets feature a woven design and can be used in areas with high flow rates, 1:1 slopes or other longer-term applications.


Securing Erosion Blankets

Stakes, staples and pegs will help secure erosion products to the ground. While these items are commonly made from wood or metal, Biodegradable Models are also available. These items will break down over time into environmentally safe particles that can blend into the surrounding area. Just as reliable as wood or metal, these items will help to keep materials in place for the duration of their use


Additional Erosion Control Options
If you are looking for something with a little additional strength, you can also consider using Erosion Control Mats. These erosion control mats are made from coir materials to help with slope stabilization applications. Mats can be made high in strength for 1:1 slopes.
See What Others Are Asking About Our Erosion Control Blanket:

Other Product Categories: